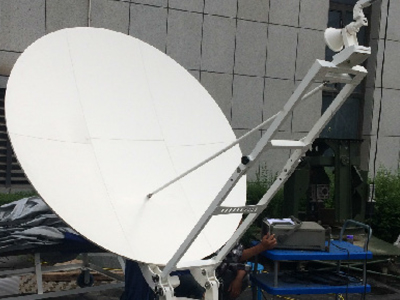 Transportable, Quick Deploy & Ease of Use
Our flyaway antennas are designed for transportability, ease of use and quick deployment.  From providing disaster recover communication, broadcasting live from a remote area or to providing tactical connectivity, our antennas are built to withstand the harshest environment.  Our "One-Push Button" acquisition will allow you to be on the air in minutes.
 High strength, light weight, carbon fiber reflector with a surface accuracy of 0.3mm RMS.
 Supports both manual and one button auto-deploy acquisition of the satellite.
 Easy assembly and operation, without training or tools, with acquisition of the satellite in four (4) minutes.
 It fully satisfies the standard of MIL-STD-810F
 Supports C, X, Ku and Ka-band operation.
 Supports DVB-S1, DVB-S2 satellite acquisition either by beacon or modem outputs.
Contact Alpha Satcom Today!