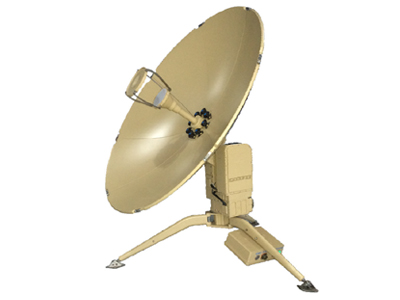 Manpack and Quick Deployable Antennas
Our one-button auto-acquisition Manpack antenna is a lightweight, portable telecommunication solution.  Built for ease of use, these antennas can be deployed in minutes and operate under any condition.  These systems are the perfect fit for government and military entities looking for tactical quick deploy communications.
Our Antenna Features:
High strength, light weight, carbon fiber reflector with a surface accuracy of 0.3mm RMS.
Supports both manual and one button auto-deploy acquisition of the satellite.
Easy assembly and operation, without training or tools, with an acquisition of the satellite in four (4) minutes.
Supports C, X, Ku and Ka-Band operations.
Supports DVB-S1, DVB-S2 satellite acquisition either by beacon or modem outputs.
Total weight of 23 KG, configured into two (2) packages.
Quick Deployable Antennas (1.2 & 1.8-meter).
Manual azimuth and elevation angle adjustments provide fast and easy positioning.
The motorization option provides "One-Button Acquisition" including a dual axis positioner, a GPS receiver and a digital compass.
Contact Alpha Satcom Today!